Kumkum Bhagya (English title: Vermillion in My Fate) is an Indian drama television series produced by Ekta Kapoor under Balaji Telefilms. It premiered on 15 April 2014 on Zee TV and is also available digitally on ZEE5. The series stars Sriti Jha and Shabbir Ahluwalia in the lead roles.
From March 2019, Mugdha Chaphekar, Naina Singh (replaced by Pooja Banerjee), and Krishna Kaul were also introduced along with Sriti and Shabbir as the second generation heads. The concept is based on Jane Austen's 1811 novel Sense and Sensibility.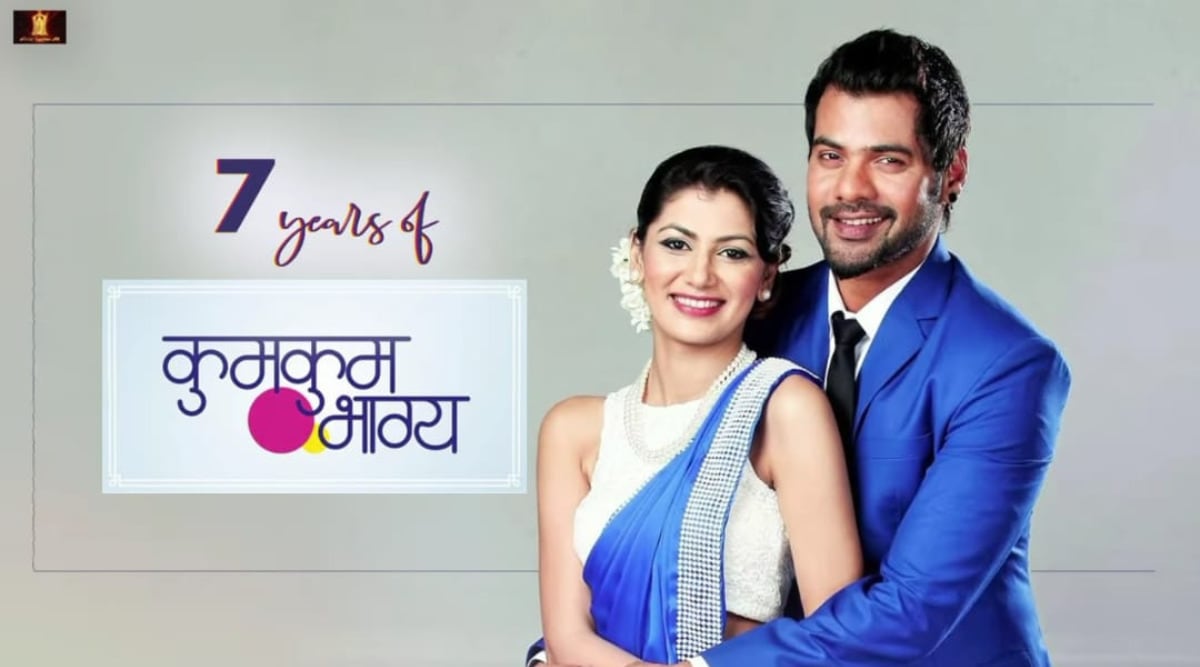 Kumkum Bhagya is the love story of Pragya and Abhi who are destined to be together against all odds. The series began as the story of sisters Pragya and Bulbul, and their mother Sarla Arora hoping to see them marry. Later, the show revolved around Abhi and Pragya. Later the couple has a daughter, Kiara. Seven years later, Pragya gives birth to twin daughters, while Kiara is killed by the enemies. Pragya and Abhi are heartbroken and blame each other for their daughter's death and are separated, Pragya takes one twin while Abhi keeps the other.
In March 2019, the twenty-year leap was introduced. The show was rebranded as "Doosri Pidhi" (second generation), where several new characters were introduced as parallel leads. These included a love triangle with Abhi and Pragya's twin daughters, Prachi and Rhea and Ranbir Kohli, son of Abhi's friend.
On 18 June 2021, a two-year leap was started, where Kumkum Bhagya was rebranded as "Bhagya Ka Naya Safar" (Fate's New Journey), where Pragya returned from Australia, while for the others. , she was believed to be dead. She comes back with the intention of taking revenge on Abhi as she was tricked into thinking that Tanu and Aaliya had tried to kill Abhi. It also revolves around the married life of Prachi and Ranbir and Rhea and Siddharth.
Casting
Shabbir Ahluwalia,  who was also cast in Ekta's TV series Qayamat, was cast to play the lead role of Abhishek Prem Mehra. Ahluwalia returns after twenty years of Zee. Actress Sriti Jha landed the lead role in the show. Mrunal Thakur was cast to play the second lead role of Bulbul while Arijit Taneja was cast opposite her. In May 2014 Shikha Singh entered the show as the main antagonist Alia Mehra, while Madhurima Tuli was cast to play the negative role of Tanu. Later, Tuli had to shoot for her film Baby, a role later played by Leena Jumani in September 2014. Actor Faisal Rashid was cast to play Suresh (Pragya's fiancee), who played a pivotal role in April–May 2014, but left the series in May 2015.
Actress Supriya Shukla was roped in to play the role of Sarla Arora, while Madhu Raja played the role of Daljit Arora. The other supporting cast includes Samiksha Bhatnagar, Ankit Mohan, Charu Mehra, and Amit Dhawan. Bhatnagar, who played the supporting role of Mithali, was replaced by Swati Anand within months of the launch, while Anurag Sharma, who plays Ekta Kapoor's Pavitra Rishta, Bade Achhe Lagte Hain, Yeh Hai Mohabbatein, and Itna Karo Na Mujhe Pyar Mein. also appeared. In 2015, Neil Motwani (who was also cast in Ekta's other shows) was cast to play the negative role of Neil; Whereas in June 2015, Nikhil Arya entered the series playing the role of the main male antagonist Nikhil Sood.
In December 2015, actress Mrunal Thakur, who played the role of Bulbul, exited the show and was to be replaced by Kajol Srivastava, however, after Mrunal's departure, Bulbul's character was dropped from the series. In August 2016, Ankit Mohan left the show, so his character was also gone. In September 2016, Arijit Taneja left the show and was replaced by Vin Rana. In October 2016, Nikhil Arya was replaced by Rujut Dahiya.
In July 2017, actress Ruchi Savarna entered the show as Purab's new love interest. Post the leap, Mishaal Raheja as King Singh and Kauravaki Vashistha as Kiara Mehra entered the show. Actor Abir Adil was cast as Raja's cousin Tarun and Roma Bali as Tarun's mother in 2018. In 2019, a twenty-year leap was introduced, with several new characters entering the show and becoming important characters. These include Naina Singh, Mugdha Chaphekar, and Krishna Kaul who play the roles of Rhea, Prachi, and Ranbir respectively. In 2020, Naina left the show as she was no longer happy with playing a negative role. He was later replaced by Pooja Banerjee.
Digital release
In late 2015, the app launched the "Before TV" service, where they launched episodes of Kumkum Bhagya before they aired on TV, with new episodes released on the Ditto app at 5:30 PM (IST). After this the name of the app was changed to OZee and later to ZEE5.